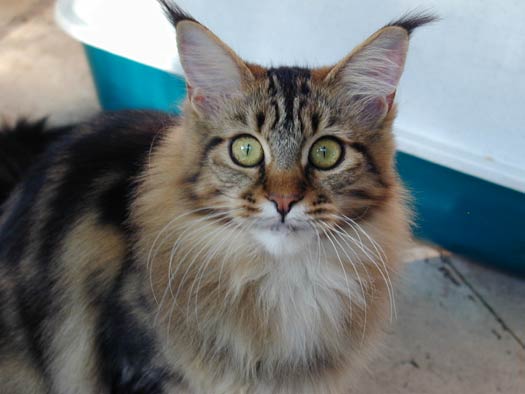 Naf Naf is the first daughter of Tora & Sam and the litter sister of "Amore of Smokeycoon" in Seatle, USA.

Naf Naf has a wonderful character and she likes to stay close to us and purring all the time. When she wants to be caressed she lays down with her belly up and stretches herself maximum, and like this we see well of her long long body and well contrasted body design. She has the huge ears with the gorgeous lynx tips. Her round eyes are green and very expressive. She has a square muzzle and very strong chin. She is a playful girl.

She was presented at some TICA shows and became Champion & REGIONAL WINNER KITTEN 2003-2004. In TICA shows many of the judges adored her and even some judges wanted to bring her with them !!! ( She is so adorable !!).

Naf Naf finally had a first white baby girl with Milky in 2005 and took care of another baby by May who didn't have enough milk. She is a great mother!!

In August '06 she left us with the cancer of liver. She was still young and we wanted to see again some of her babies but she had only one white kitten in her life. We wanted to stay much more with her but her time to go came so early :-(( We miss you so much !!