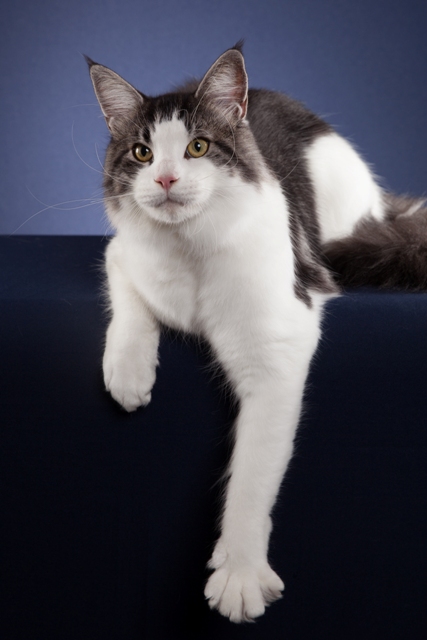 Ghinga is out of latest litter of Genji who was almost to retire from the breeding world and his mommy is Luna.

Genji has not been a breeder of making many black silver color even himself is in this color. We waited so long time for Genji's successor in black silver color for our cattery. Now finally arrived a wonderful black silver/high white boy. His Name Ghinga means Silver large river (Milky Way) in the constellation.

Ghinga has a very sweet caracter and never get angry and living together with our stud Fitz peacefully. He has a very nice head with the highly set large ears, nice profile and with strong chin. His body color of black silver is rather very dark but his conrrast with white is beautifully shining. Ghinga is a

playful boy

and destroys always the playing toy with feather ;-))

Ghinga has been shown at Tica shows since he was small and had a lot of successes and got 5°REGIONAL WINNER. After he becomes an adult we continued showing him then he got again 17°REGIONAL WINNER in the same show season. Now he got a title of SUPREME GRAND CHAMPION TICA.

His litter brother Machiavelli has also the successes at some Tica shows. This year hopefully Ghinga will become a father of beautiful babies.
7°, 5°, 10°, 8°,7°,4°(F) (10/16)
3°, 8°, 2° (D) (10/16)
5°, 7°, 3°, 10°,9°, 5°, 5°, 10°,9°(A) (10/16)
2°, 10°,7°(F) (10/16)
6°, 2°, 3°, 2°(HU) (11/16)
2°, 5°,1°,2°,2°,2° (D) (12/16)---> REGIONAL WINNER
adult class:
6°, 8°(A)

(01/17) --->

CHAMPION

5°,7°,6°, 2°, 5°, 7°, 7°, 6°(I) (01/17) --->

GRAND CHAMPION, DOUBLE GRAND CHAMPION,

3°, 9°, 6°, 5°, 5°,1° (F) (02/17) ---> TRIPLE GRAND CHAMPION

5°,6°,6°, 8°,8°, 8°(HV) (04/17) ---> QUADRUPLE GRAND CHAMPION

3°, 2°, 4° (04/17)

(NL)

---> REGIONAL WINNER

5th ALL BREED BEST KITTEN OF THE YEAR 2017 (ES)

11th BEST LONG HAIR CAT OF THE YEAR 2017 (ES)

17th ALL BREED BEST CAT OF THE YEAR 2017 (ES)

BEST MAINE COON OF THE YEAR 2017 (ES)

BEST CAT IN ITALY 2017

BEST BLACK SILVER CLASSIC TABBY/WHITE MAINE COON OF THE YEAR 2017 (INT)